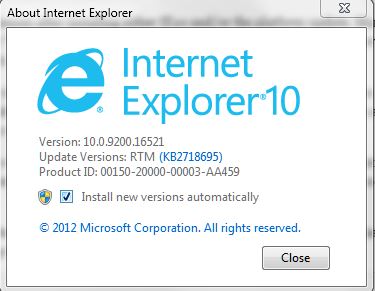 I recently ran into problems updating one of my Windows 7 workstations to IE 10. The recent Platform Update released on February 26th and/or installing IE 10 both resulted in Aero glass being broken on my desktop, forcing the desktop back to the Windows 7 Basic theme.
Many other users have reported similar experiences after installing either IE10 and/or the platform update. Some have found that configuring any monitors set for "Portrait Mode" back to landscape view resolves the issue, however, I did not have any monitors in portrait mode – or so I thought.
I then remembered that I had disconnected a 7inch DisplayLink USB Monitor that had special software/drivers for windows. Even though I had long since disconnected the monitor, the driver software was still running on my system. As soon as I uninstalled the DisplayLink software and rebooted Aero Glass was successfully restored.
Although this resolves the issue for me, it goes without saying that the Microsoft updates for Windows 7 and Internet Explorer still have bugs in them. Running DisplayLink or Portrait monitors is a poor excuse for Aero breaking when it has worked fine all along until these updates.
Make sure you've triple checked all your monitor configurations to see if that fixes Aero. If problems persist please write in so others can be aware of the symptoms and keep track of possible resolutions.